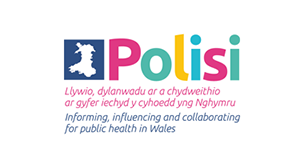 Polisi has led on reactive, evidence-based projects, as well as generating new evidence and thinking on a broad range of subjects that impact on population health and well-being in Wales. With a focus on the domestic policy context, Polisi has undertaken work in a range of subjects, including the potential impacts of Brexit, the intersection of health and the wider economy, the case for investment in housing improvements and how futures thinking can be incorporated into public health policy planning.
What we do
The Policy Team co-ordinates Public Health Wales' participation in, and monitoring of, consultations, policy development and legislation impacting on population health. The team aims to influence public health policy development in Wales through collaborating with a wide range of partners both within and outside the organisation, and undertaking projects and programmes of work.
What we have done
Recent work includes: producing a Three Horizons toolkit to help public bodies and others to think and plan for the future and longer term; A Young People and Brexit report, to look at health and well-being and the perceived impact of Brexit; Taxation and Healthier Lifestyles in Wales; Improving Winter well-being and reducing winter pressures, as well as a range of housing and health reports.
Current key areas of work include: Brexit; Covid 19 including producing daily Covid-19 updates; supporting a range of Health Impact Assessments and carrying out a Health Impact on Housing Security (includes homelessness and feeling safe in the home) in light of Covid-19; co-ordinating and producing organisational responses to a range of national consultations, and working in partnership with the Future Generations Office on Covid-19 Futures work and long term planning.
Polisi Team
Louise Woodfine
Principal Public Health Specialist, Policy (and Housing) Lead
Principal Public Health Specialist, Policy (and Housing) Lead Louise has worked in the Public Health Wales Policy Team since 2016 covering all areas of public health policy. Previous to this she worked in the North Wales Public Health Team from 2001, working across a wide range of public health areas including alcohol, tobacco, children's asthma and primary care. Louise has also worked for several years in Local Government specialising in the areas of health policy and the environment. Since starting her career, she has always had a particular interest in health and housing policy. Outside of work, Louise enjoys walking and cycling with her dogs.
Adam Jones
Senior Policy Officer
Senior Policy Officer Adam has worked for Public Health Wales since December 2009. From 2009-2015, Adam served as All Wales Sexual Health Network Coordinator, joining the newly-established Policy Team as Public Health Practitioner – Policy in October 2015. Adam became Senior Policy Officer in September 2019. Adam contributes to all areas of public health practice from a policy perspective, with his particular professional interests include sexual health, HIV, and the links between health and the economy. Adam spends his spare time concentrating on his creative passions – photography and writing.
Mischa Van Eimeren
Senior Policy and International Evidence Development Officer
Senior Policy and International Evidence Development Officer Mischa joined Public Health Wales in November 2018 as part of the Policy and International teams. Previously he worked 10 years in Brussels representing different European medical societies. In his spare time, he likes to be outdoors either cycling, running or hiking.
Dr. Louisa Petchey
Senior Policy Officer
Louisa joined Public Health Wales in 2018. Prior to this appointment, Louisa worked for health and social justice charities. Louisa also supports getting more women into public life. Louisa is happiest when she is outside, exploring the amazing beaches of Gower with her husband and dog, or getting overly emotional at musical theatre, books and too many TV programs.
Laura Morgan
Public Health Practitioner – Policy
Laura has been a member of the Policy Team since December 2019. She previously worked for the Wales Health Impact Assessment Support Unit (WHIASU) where she was a co-author of health impact assessments on Brexit and Covid-19. Prior to joining Public Health Wales she worked for organisations in the public and voluntary sectors where she played a key role in a number of reports and campaigns that contributed to Welsh Government policy.
Christian Servini
Change Maker, Office of the Future Generations Commissioner
Christian joined Public Health Wales on a part-time basis in spring 2020 to support the organisation on the futures / long-term agenda, together with his role at the Office of the Future Generations Commissioner. Christian's background is in the environment sector but he now focusses on a wide range of areas. Away from work, Christian loves running and is a trail running ambassador for Salomon.
---
For further information about the work of the Polisi, please email publichealth.policy@wales.nhs.uk or
contact Louise Woodfine, Principal Public Health Practitioner, at Louise.woodfine@wales.nhs.uk.