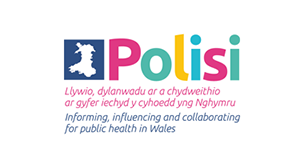 Polisi has led on reactive, evidence-based projects, as well as generating new evidence and thinking on a broad range of subjects that impact on population health and well-being in Wales. With a focus on the domestic policy context, Polisi has undertaken work in a range of subjects, including the potential impacts of Brexit, the intersection of health and the wider economy, the case for investment in housing improvements and how futures thinking can be incorporated into public health policy planning.
What we do
The Policy Team co-ordinates Public Health Wales' participation in, and monitoring of, consultations, policy development and legislation impacting on population health. The team aims to influence public health policy development in Wales through collaborating with a wide range of partners both within and outside the organisation, and undertaking projects and programmes of work.
What we have done
Recent work includes: producing a Three Horizons toolkit to help public bodies and others to think and plan for the future and longer term; A Young People and Brexit report, to look at health and well-being and the perceived impact of Brexit; Taxation and Healthier Lifestyles in Wales; Improving Winter well-being and reducing winter pressures, as well as a range of housing and health reports.
Current key areas of work include: Brexit; Covid 19 including producing daily Covid-19 updates; supporting a range of Health Impact Assessments and carrying out a Health Impact on Housing Security (includes homelessness and feeling safe in the home) in light of Covid-19; co-ordinating and producing organisational responses to a range of national consultations, and working in partnership with the Future Generations Office on Covid-19 Futures work and long term planning.
Polisi Team
Dr. Louisa Petchey
Senior Policy Specialist
Louisa joined Public Health Wales in 2018. In her current role Louisa manages the Polisi team and leads a collaborative partnership with the Future Generations Commissioner's office on embedding the long-term way of working into public body thinking and planning. Prior to this appointment, Louisa influenced policy and practice on behalf of health and social justice charities, and completed a PhD in Developmental Genetics.
Lewis Brace
Public Health Policy Research Officer
Lewis joined the Policy and International Health team as a Public Health Policy Research Officer in July 2021 after working for PHW on the COVID response as a practitioner within the Cardiff and Vale team. Lewis is currently involved with research projects on winter wellbeing, climate change and renewable energy. His free time is spent enjoying the outdoors and exploring the Welsh coast on his inflatable boat.
Dr. Ben Gascoyne
Senior Public Health Researcher/Statistician
Ben joined the team in August 2021, after working as a research associate in applied global health and disability research at an international NGO. He completed his PhD at University College London, exploring the social determinants of health and development in a cohort of children in the Philippines. In his spare time he enjoys surfing, occasionally well, often quite badly.
---
For further information about the work of the Polisi, please email publichealth.policy@wales.nhs.uk or
contact Louisa Petchey, Senior Policy Specialist, at Louisa.Petchey@wales.nhs.uk.