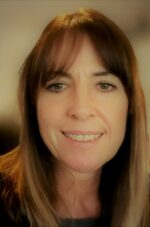 Sheena joined the WHO CC directorate in November 2021 and is responsible for developing, implementing and evaluating communications and social marketing plans to support the Directorate's key deliverables. Sheena will be working with the PHW Communications Team to maximise the impact of communications activities and social marketing for the WHO CC's publications.
Prior to joining PHW, Sheena gained 15 years' experience working in communications and community engagement roles for a large not for profit organisation in Wales in a managerial capacity. Sheena has a BA Hons in International Business and a PGCE from the University of Wales and has previously been employed as a part-time lecturer at Coleg Morgannwg.
In her spare time, Sheena enjoys upcycling furniture, walking her dogs and enjoying the beautiful Welsh scenery with her husband and granddaughter.