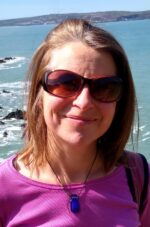 Eurgain is the Principal in Sustainable Development and Health within Public Health Wales' Health and Sustainability Hub. She joined in March 2022 and her role is to support the implementation of the Well-being of Future Generations Act, through sustainability and climate change initiatives.
Before joining the Hub, Eurgain worked as Change Maker for the Future Generations Commissioner for Wales leading work on decarbonisation, transport and procurement, influencing key Welsh Government strategies and decisions. She has worked in a range of organisations including the Climate Change Commission for Wales, Forum for the Future and Carmarthenshire County Council taking forward sustainability and climate change projects.
Eurgain is very passionate about making a difference and protecting our planet for future generations. When not working she's busy with local sustainability projects and enjoys spending time in nature, running, cycling and walking her dog.