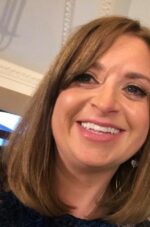 Ann joined the Health and Sustainability Hub in July 2022 but has worked in the field of public health since 2007. Ann was a member of the North Wales Local Public Health Team supporting health Improvement work, mainly focusing on the Early Years agenda. She gained her registration as a UK Public Health Practitioner in 2019 and trained as an UKPHR Assessor.
Prior to joining PHW, she was a Health Researcher at Bangor University after receiving her Masters in Public Health and Health Promotion in 2005 and has worked on the National UK Active Travel to School Programme and Agenda 21. Ann is passionate about giving children and young people the best start in life and ensuring that the health and well-being of our future generation is protected and secured.
Ann lives with her husband and three children on the beautiful island of Anglesey and enjoys walking, baking and spending time with family and friends.