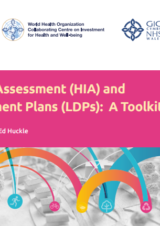 Public Health Wales has created a practical Health Impact Assessment (HIA) toolkit that will enable planners to easily integrate health into their development plans for the future.
Designed to help further the collaboration between planning and public health sectors in Wales the resource aims to maximise positive health and wellbeing outcomes through land use planning policies that create healthy, equitable and cohesive communities.
Please download Adobe Acrobat Reader before opening this resource in order for full functionality.