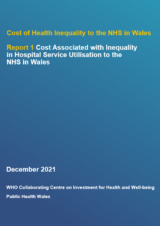 This report aims to estimate the financial cost associated with inequality in hospital service utilisation to the NHS in Wales to help inform decision-making and resource prioritisation towards prevention and early intervention through an equity lens, contributing to COVID-19 sustainable and inclusive recovery.
The report is accompanied by an interactive dashboard, allowing users to explore in detail, the costs associated with inequality by service category, sex, age and level of deprivation.
Please note, the dashboard is optimised for use on desktop devices.