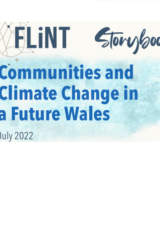 Communities and Climate Change in a Future Wales explores how particular communities feel about the impacts of climate change, and how these impacts might exacerbate existing inequalities. The project was designed collaboratively and involved participants in long-term thinking about climate and inequalities, considering what problems might need preventing, and integrating the findings with other studies and projects in the field.
The project reports not only contain the findings from this work, but also provide resources for policymakers to implement similar creative futuring techniques to involve communities in long-term thinking.
The Storybook is produced by FLiNT under Partnership Agreement between FLiNT and the Office of the Future Generations Commissioner for Wales, and in association with Public Health Wales.