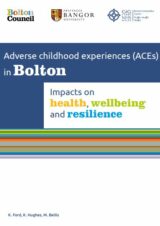 There is substantial evidence identifying the detrimental impacts that adverse childhood experiences (ACEs) can have on individuals' health, wellbeing and broader life opportunities. A number of studies in the UK have identified the prevalence and impacts of ACEs at a national level, yet few studies have been undertaken at a local level. Understanding how local populations are affected by ACEs can enable local authorities and partnerships to tailor their support services, targeting resources to the health needs of the populations they serve. This study was implemented by Public Health Wales and Bangor University on behalf of Bolton Council to understand the impact of ACEs on the health and wellbeing of adults in the Bolton Local Authority area. The study explores:
■ The prevalence of ACEs in Bolton Local Authority;
■ Relationships between ACEs and health and wellbeing;
■ Resilience factors that may offer protection against the harmful impacts of ACEs.