A new guide will help decision-makers improve health and wellbeing in Wales with value-for-money priority action to prevent ill-health.
Prosperity for All Report Cover EnglishThe guide, Driving Prosperity for All through Investing for Health and Well-being, identifies ten key evidence-informed policy opportunities for investment in Wales.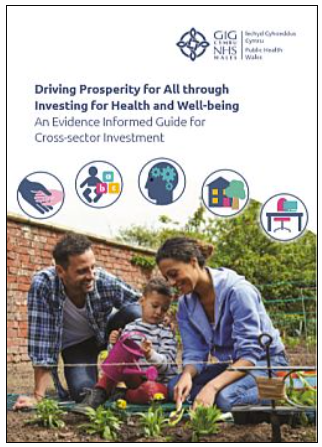 Opportunities identified in the report address areas of high burden and cost in Wales, delivering economic as well as social and environmental returns, and supporting sustainable inclusive economic growth.
The guide will help decision-makers to implement the Welsh Government's Prosperity for All national strategy.
Professor Mark Bellis, Director of the Policy and International Development Directorate (a World Health Organization Collaborating Centre in Public Health Wales), said:
"We know that prevention is better than cure. This guide will help to identify policies that deliver the best return on investments to improve the health and well-being of people in Wales. It will also assist decision-makers with the delivery of the Prosperity for All national strategy."
"The guide is based on evidence drawn from within Wales and across Europe. We hope it is seen as valuable tool for policy and decision-makers across national and local government, the health and social care service, and public bodies in all other sectors."
The guide highlights that cross-sector, multiagency, multilevel action is needed to achieve sustainable development and prosperity for all in Wales.
It follows the publication in of the Making a Difference report in 2016, which provided policy-makers with clear evidence around priority areas for preventive action, supported by examples of what works and is efficient (cost-effective).
Links